Piezo DX - Sorry, but this item DISCONTINUED!




Now you can stimulate your own acupoints and Clear Away pain and restore balance to your body. You can quickly learn to benefit from this healing art that has been practiced and perfected for over 5000 years.

Discover the healing power of LIGHT with the VitaLaser 650

Pain Relief without Needles or Pills!


For International Customers:

Please be aware that we have a $1000 minimum purchase for international purchases. Orders must be first authorized by phone:
Call 1-888-824-7558 or 1-808-572-2995


You can easilly learn how to use this fabulously effective solution for pain management and natural healing. Aculight therapy has been practiced for over 30 years throughout the world, primarily in Europe, Asia and Canada and since 1990 in the US for sport horses and show dogs.
Cold Laser and Acu-light therapy -- Is it Safe?
Acupressure and acupuncture have been used for over 5000 years with great results. These non invasive acupressure point stimulation products are completely safe and work very well with the naturally occuring electrical system of the body. They work to normalize the energy in the acupuncture meridians, which correspond to the internal organs and central nervous system. The electric stimulation or light therapy also sends a message to the brain to release pain blockers known as endorphins and blood circulation is increased. Blood caries oxygen and nutrients to accellerate natural healing. That is why people often stimulate directly around the area where they are experiencing pain in addition to well chosen acu-points.
There are 14 main meridians and 360 main acupuncture points, according to Chinese Acupuncture Theory. There are many great books which explain the fundamentals of acupuncture, acupressure and reflexology. For more information on acupressure "recipes" and the history of Acu-pressure click here.
HOW do you use laser light therapy?
It is very easy to use! Simply apply the laser directly to the skin around any part of the body where you have pain (except around the eye, on open wounds and on the belly of a pregnant woman). It is safe and easy to use for quick pain relief on painful muscles all over the body. Just spend 5 to 15 minutes working on a combination of pain points, acupoits and reflex points in order to activate the endorphins and and clear energy blockages in the body. Frequently the pain goes away if not immediately, then within 15 minutes. According to tests and research conducted by independent sources throughout the world, the effectiveness of cold laser therapy and acu-light therapy is impressive and well documented with over 3500 scientific papers published worldwide. Click here to see Cold Laser Research
You can use these devices on yourself, or someone else can use them on you. There are numerous cold laser acu-light therapy devices to choose from as seen at Quantum-Healing-Lasers.com
WHAT'S my experience with the Cold Laser and Acu-light Therapy?
Since 1990 I have shared, demonstrated and taught thousands of people how to use alternative healing devices to support the body systems and stimulate the acupoints, trigger points, meridians, and hand, ear and foot reflexology points. It has been a great joy and passion of mine to work with people, which I did daily in one of my former stores or at trade shows that I worked at regularly for over 13 years.
People are frequently amazed that the pain often leaves immediately. I have traveled around the world with the cold laser therapy devices and massage tools and I get great results on myself and others all the time. Our portable home use lasers and sports therapy cold lasers are a perfect companion for traveling or taking to work because they are small and ultra-portable and you can always bring them with you for immediate on the spot relief. It is so much better than taking pain medication that burdens your liver and other organs. Cold Laser Therapy works with nature to heal and strengthen your body naturally.

WHAT'S the History of Meridian Therapy?
Dr. Takeyoshi Yamaguchi of Japan suggests that electricity is produced throughout the body from organs such as the heart, brain and even each individual cell. When muscles are contracted or neurons are stimulated, a voltaic current is generated.
The subtle electrical current that circulates throughout the entire body is called bioelectricity and it is used in conducting certain modern tests like brain wave testing or the electrocardiogram. We are electrical beings and this electrical current is essential for our lives to exist.
According to Oriental Medicine, pain and dis-ease are an imbalance in the organs and energy systems of the body. Pain is like the crimping of a garden hose. If the hose is crimped the water can not circulate. So it is with the body; if there is pain, it is an indication that the Chi (energy) is not circulating properly throughout that area or within that meridian. Each acu-point is indicated by a small explosion of heat beneath the surface of the skin. These points can be detected with modern equipment such as the Pointer Exell II. Utilizing electronic stimulation devices, needles, pressure or cold laser/acu-light to stimulate acu-points or pain locations activates the body's innate healing response systems. Within every cell is a "blueprint" of a perfect and healthy body. When you activate your body's healing response, it taps into this "blueprint" and goes to work restoring balance and harmony.
Who Uses Cold Laser Therapy?
Cold Laser Therapy (CLT) also know as Low Level Laser Therapy (LLLT) is used by Acupuncturists, Chiropractors, Massage Therapists, Medical Doctors, Osteopathic Doctors, Health Professionals, Pain Management Clinics, Sports Therapists, Physical Therapists, Estheticians and lay people in all walks of life. These are tools for EVERYONE and they can just as easily be used on oneself as on someone else. They are fantastic self help tools for alternative healing. They give new meaning to alternative medicine and complimentary medicine.
Practitioners, Chiropractors and Massage Therapists have found that by using Cold Laser Therapy they can give their clients better results quicker than with their conventional treatments. Cold lasers are often used for lower back pain, stiff shoulders, neck-aches, sciatica, headaches, arthritis, morning stiffness, allergies, skin conditions, dental distress, cold sores, wrinkles, Fibromyalgia and numerous other conditions.
Why Use Cold Laser Therapy?
The physiological and chemical reactions in the body due to use of Cold Laser Therapy CLT are significant and varied. CLT works to help relax muscles, aleviate pain (analgesic), reduce inflammation (anti-inflammatory) by deactivating 7 of the 9 enzymes that cause inflammation by up to 70%, reduce swelling (anti-edemic), boost the immune system by up to 150%, stimulate the release of endorphins (for pain relief and mood elevation or stabilization), increase microcirculation, repolarizes cell membranes (increased cell permeability), increases production of osteoblasts and fibroblasts (helpful in cases of weak or injured bones) and most importantly - donates photonic energy to all cells that it reaches (thus the importance of different wavelengths). The significance of the varied actions of CLT can not be understated. The Mitochondria in our cells immediately converts phononic energy into readily usable "chemical" energy in the form of Adenosine Triphosphate (ATP). Every cell in your body requires ATP, which gives it the energy it needs to function and perform at peak efficiency.
To Learn More About Cold Laser Therapy and Supplies Visit: Quantum-Healing-Lasers.com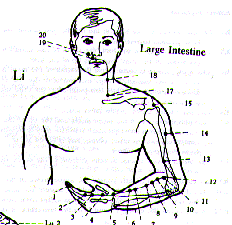 To learn more information on Acupressure History and Philosophy Click Here.
For International Customers: Please be aware that we have a $1000 minimum purchase for international purchases. Orders must be first authorized by phone: Call 1-888-824-7558 or 1-808-572-2995
To Place an Order Use the Shopping Cart Buttons Above or
Call Toll Free 1-888-824-7558