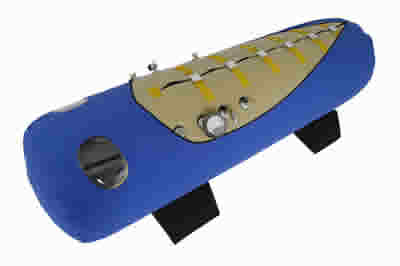 Click Here for a Comprehensive Brochure
(you may have to right click to download pdf)
HYPERBARIC OXYGEN CHAMBER SPECIFICATIONS:
DIMENSIONS:
Our hyperbaric chamber measures over 34 inches in diameter and is 105 inches (8.75 feet) long. The chamber can easily fit both an adult and child at the same time.
Extra long zipper make entry and exit easier for those with disabilities.
SOLO OPERATION:
In addition to the standard pressure gauge on the outside of the chamber, an additional gauge is available for the inside of the chamber as well. For clients that want to use the chamber without any outside assistance, an internally visible gauge allows the chamber pressure to be properly maintained without guesswork. Simply twist the inside pressure gauge clockwise or counterclockwise to raise or lower the internal pressure.
OXYGEN:
For countries where oxygen use is approved, our chamber can be easily fitted with a mask for the inhalation of pure oxygen during a session with either an oxygen tank or an oxygen concentrator..
COMPRESSOR:
Our compressor features a multiple filter system that also cools and dehumidifies the air for a more comfortable chamber environment. Custom sound baffle system decreases the sound signature of the compressor making it quiet enough to use in a medical office or small apartment. Noise of air flow into the chamber is also muffled for clients sensitive to loud sounds.
ACCESSORIES:
3/4 inch anodized aluminum internal frame holds the chamber in an open position even when uninflated for easier entry and exit and faster inflation time. Medical grade internal mattress is custom fitted to the chamber and is 98 inches long. Mattress cover unzips for easy cleaning. Closed cell anti-roll bolsters keep the chamber from rolling or rotating in place. Non-electric sound powered intercom system also available.
COMPARISON SHOPPING:
Our chamber has all the benefits of other chambers (plus some they don't) at a fraction of their price. Click Here for a comparison chart to see a side by side comparison of how our chamber compares with other leading brands in terms of price, size and other features.
PRICE:
$15,900.00
CALL FOR MORE DETAILS:
1-888-824-7558