Introducing the Jupiter Neptune
Water Ionizer


THE NEPTUNE JP101: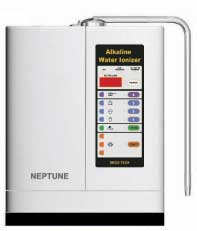 Alkaline Water Purifier and Ionizer = Pure Antioxidant Rich H20
Taking Rehydration to new levels.
THE NEPTUNE is the Melody's little brother. Better than the Microlite and priced in between the two.
SORRY THIS ITEM DISCONTINUED!
Please click link to see the new VENUS
The Neptune JP 101 Features Include:


pH Selection Range at 4 levels (Plus 3 acid settings and a filter-only option)


Easy installation of unit next to or over sink – Comes with everything needed to install unit including wall-mounted option.


Fully automated system using MICOM artificial intelligence with 4 meg ram semiconductor Platinum Titanium Electrodes with Advanced Polymer Patented Technology.


Extra calcium addition to water through calcium port.


Overheating prevention, including hot water automatic shut off


Automatic turn on, shut off when water pressure is applied.


Automatic turn-on, shut-off via the incoming water "switch"/tap.


Automatic Indicator Alert when Filter Requires Replacement


Stainless steel outlet hose for alkaline water.


Extended Product Life by Self-Cleaning Mechanism.


Automatic cleaning when machine turns on (This can manually be turned off)


Musical alert when using cosmetic cleaning cycle


5 Year Warranty
How Does the Jupiter Neptune Compare with the Jupiter Microlite?
A. Electrolysis Chamber (Water Cell)
The Neptune's water cell is stronger than the Microlite (while not as powerful as the Melody's water cell), giving you ample pH and ORP when used with almost any USA approved council water source.
Like the Microlite and Jupiter Melody, the Jupiter Neptune water cell is designed to drain completely so that there is no standing water in the cell between uses. One of the reasons that the Neptune water ionizer is programmed to go into an automatic clean cycle with every use is so that all of the standing water will be purged out. If water was allowed to remain between uses the water would not be fully ionized and could absorb flavors resulting from lime build-up within the cell.
B. Semi-Automatic Cleaning
The Neptune will automatically go into a clean cycle each time you turn your ionizer on using the power button. If however, you simply turn off the water flow then your Neptune will go into sleep mode and will awaken when water is turned on again. If the power button is not used then there is no auto clean and you should manually clean your unit at least once every day.
C. Coral Calcium Port and LED Filter Life Indicator
The Neptune comes with an inbuilt coral calcium port (just like the Melody) and has a digital counter showing the estimated life of your included Biostone filter. Filter available in .1 or .01 Micron Size.
User Control Panel Up Close
The Neptune controls have been designed with the Western kitchen in mind.
The new control panel is membrane sealed making it easy to clean with insured reliability.
Top Row Lights:
Warning/Indication LED Computerized lights for
IONIZATION, LOW PRESSURE and HOT WATER WARNING


FILTER LIFE LED - goes up to 9,999.


Highest pH setting. Ideal for COOKING etc. (Button 4)


COFFEE / TEA and high pH Drinking Water. (Button 3)


Ideal for PASTA / RICE etc. (Button 2)


Low Alkaline pH. Start for DRINKING WATER (Button1)


No Change in pH - Filtered water only. Good for SOME MEDICATIONS. (Filtered Button)


3 Settings for ACID WATER - For cleaning, skin, plants etc. NOT for drinking. (Cosmetic Button )
Explanations of NEPTUNE JP101 Features:
Automatic Reversed Cleaning Every water ionizer in the world, worth investing in, has an inbuilt cleansing routine. This ensures that any particles that may find their way past the filter are not 'caught' in the ionizing cells. The method is simple - the magnetic field in the chamber is reversed so that any mineral that has energetically adhered to a Titanium plate is repelled and flushed away. It's a clever system, and assures the user of a long, trouble free life, but it isn't perfect - except on the Neptune, Melody, Aquarius and Orion. Before, during the cleaning cycle, the water flow was changed from alkaline to acid. Now, for the first time ever, these enhanced ionizer systems deliver only alkaline water from the alkaline spout. No more waiting even when your Neptune is cleaning!
Varying levels of acid water output means you can avail yourself of all the many ways you use acid water; for your skin, for your plants, for your home hygiene and more.
Pure water selection can be important if you or visitors are on an acid-based drug regimen. Although alkaline micro clustered water helps the absorption of many supplements and reduces the dosage requirement, it may affect drugs that are designed to be taken with acid or neutral water.
The .1M (or optional 0.01 micron) 9-stage filtration plus BioStone Infrared means that not only is your water filtered of impurities to the very finest possible degree, but it is also preconditioned by reduction of surface tension for maximum negative ion production during ionization. The 3-stage filter also adds coral calcium to the water automatically.
Click Here to Learn More About the Replacement Water Filters. There is no substitute for a quality, replaceable filter. Imagine what your sink would be like, after a year, if you only used hot water to clean it!
Large 5-plate polymer ion plated platinum coated titanium ionizing plates. Some older design water ionizers still use stainless steel plates, which were found to emit nickel. Jupiter Science and Toyo Water of Japan collaborated to produce the finest system of polymer bonded platinum coated Titanium plates. These totally overcome this leaching problem and radically enhance the lifespan of the plates, which are the heart of your Neptune system.
A stainless steel top spout may seem a small thing until you actually use and Ionizer without one. Some ionizers output their ionized water via plastic hose back to the tap and out. The kitchen tap is one of the most bacteria-laden zones in the kitchen. Furthermore, a top-mounted spout allows you to pour water anywhere; a real boon when the sink is full of dishes, or when you want to fill a large bottle.
Integrated computer circuitry means CHOICE. Some units on the market try to make out that they are ionizers but do not use computer controllers. This means that you are restricted by the pH of your incoming water and not able to adjust to the optimal pH for your own needs.
Computer circuitry also allows hot water and low pressure protection to be an automatic function.
Post-operation Auto Cleanse System means that every time you use your 'Neptune', it will undertake a silent, automatic cleanse of the Titanium ionizing plates in the heart of its system. This auto clean ensures continued maximum performance by removing any particles that may have gotten through the filter into the ionizing chamber.
Voice confirmation means you are alerted to any change of pH. This safety feature can also be reduced in volume or turned off once you have learned how to use the Ionizer properly. it's like a 'learner-driver instructor' on board.
Filter usage Liquid Crystal display means you can see at a glance how much filter life you have left. Although not an actual measure of filter life, it's a handy indicator of longevity that you can use to assess when to order a new filter.
Optional ability to connect direct to mains, means you really don't even need your Melody attached to your tap. With a 1/4" hole in your counter, it can attach directly to your mains. All you need do to have a glass of water is to turn it on at the convenient front flow valve.
1/4" inlet tube; better visually in your kitchen than the 3/8" tube on other models. Why? Smaller is less obvious, and even though you may not want to connect your 'Melody' to the mains, and hiding the inlet hose completely, the 1/4" tube looks far better than the bulky 3/8" hose on other models.
We guarantee top value, lowest price and best warranty. So if you've been shopping around please tell us what any other model has that the Neptune water ionizer does not.
The Neptune Water Ionizer is Jupiter Science's latest model designed to utilize the esteemed BioStone filter.
The BioStone filter takes the water ionizer technology to the next level because it generates negative-ions as soon as it makes contact with water. It activates water to assist in support of our metabolism, and circulation of blood. It helps to increase metabolism through better conductivity and assists with skin disorders.
Additionally, the Tourmaline in the filter, (Please Click Here for details on Tourmaline )
generates FIR that enlarges capillaries, purifies water, and acts as a 'supercharger', assisting the water alkalizer to ionize and alkalize. Tourmaline powerfully affects the water immediately.
• Surfactant effect (makes water wetter) increases by 10%.
• Negatively ionizes water and supports extra negative ionization in the water alkalizer. (24,140/cc) / FIR (96%)

• Enhances taste
• Reduces cluster size
• Assists alkalization
• Minimizes water odor
• Increases DO (Dissolved Oxygen)
• The research on Tourmaline has proven it to activate animal and plant metabolism.
The Neptune easily outperforms Japanese imports, which have been perceived as the best for many years.
The new filter incorporates the very latest polymer ion separation technology, which is patented by Jupiter Science. This makes Jupiter Science capable of the best range of pH and negative antioxidant ions of most other brands of water Ionizer on the market.
In the 1990's Korean manufacturing standards rose sharply, led by Jupiter Science International, challenging Japanese standards of quality. Jupiter Science has now surpassed Japanese quality and set the standard by which Japanese manufacturers are trying their best to mimic. The Neptune like his big brother the Melody, always gives alkaline water-even when it is in the cleaning mode.