JUPITER SCIENCE INTRODUCES

The Most Advanced Water Ionizer Systems
The Orion now Replaced by better performing ATHENA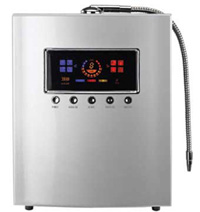 Alkaline Water Purifier and Royal Water Ionizer = Pure Antioxidant Rich H20.
Features unparalleled quality, purity, technology and rehydration.
Last year MORE Jupiter Science Melody ionizers were sold in the US than all other retail model water ionizers by all other companies combined. Now the JP109 Orion and the Athena have taken this technology to the next level with a host of features never available before.



The Athena has a stronger ionizing chamber than the Melody and Venus. This is due to the new "mesh technology" in the redesigned water cell. The new units feature a computer controlled water flow valve to optimize the performance of the machine for pH and ORP. The Orion also utilizes a new and improved cleansing system that will eliminate mineral scaling or deposits due to hard water conditions, thus resulting in a longer life of the equipment.
Research states that the ideal level for drinking alkaline water is between pH8.5 - pH9.5 with an ORP of -250mv. It is unimportant if an ionizer creates big -ORP numbers at really high levels of pH. For most people, water over a pH10 begins to acquire an unpleasant taste due to the heavy concentration of minerals. What is important is drinking water at the mid alkaline levels of pH from 8.5pH to 9.5pH, with good -ORP. Of course the Orion and Athena are both designed to create the big - ORP numbers at the higher pH ranges, but what's realy important is that these ionizers are designed to give you the best ORP at the lower levels of pH, at the levels that you will actually enjoy drinking water because it still tatstes great. That's where the bang for your buck really is.

Ionic Water Purifiers have never worked so good. The Athena offers you the finest in quality drinking water with all the features you expect from an Alkaline Water Purifier. Now with the advancements of water purification technology by Jupiter Science you can benefit from not only alkaline water, but from infrared charged, ion rich, alkaline water with coral calcium and magnesium. This outstanding blend of technologies is revolutionizing the way people are getting healthy; and by simply drinking better water. What could be easier! By drinking plenty of purified alkaline water you can hasten the cleansing process and assist in the elimination of acids and toxins from the body.
The Orion water ionizer has retained all of the best features of its predecessors; WHILE ADVANCING QUANTUM LEAPS FORWARD. These units are now more efficient and user-friendly. We regard the new "mesh technology" combined with the BioStone Far InfraRed filter to be a revolutionary step in electronic water ionizer design. The Athena has taken the drinking of healthy, alkaline, purified water to the next level.
For maximum purity, energetics, and filtration, the Jupiter Science infrared micron filter system is revolutionary. There is no other water system on the market that can do so much for your water and your health. The water ionizer machines create microclustered water for better hydration of cells, with the highest electron levels in the water, offering fantastic antioxidant qualities. The unique filter imparts FIR from tourmaline into the water for improved taste, reduced cluster size and increased alkalinity potential. Truly worldclass water ionizers for those who want the best money can buy.

To Download a PDF file containing valuable information on the benefits and powers of Ion Rich Alkaline Water Click Here
Explanations of Athena Water Ionizer Features:
Automatic Reversed Cleaning Every water ionizer in the world, worth investing in, has an inbuilt cleansing routine. This ensures that any particles that may find their way past the filter are not 'caught' in the ionizing cells. The method is simple - the magnetic field in the chamber is reversed so that any mineral that has energetically adhered to a Titanium plate is repelled and flushed away. It's a clever system, and assures the user of a long, trouble free life, but it isn't perfect - except on the Venus, Melody, Athena and Delphi. With earlier units, during the cleaning cycle, the water flow was changed from alkaline to acid. Now, for the first time ever, the Venus, Melody, Athena and Delphi delivers only alkaline water from the alkaline spout. No more waiting even when your Ionizer is in cleaning mode!
Extra levels of pH means greater choice for you and other users. It also allows you to take advantage of higher alkaline pH levels when cooking, to make greens greener, rice fluffier and coffee and tea more flavorful.
Varying levels of acid water output means you can avail yourself of all the many ways you use acid water; for your skin, for your plants, for your home hygiene and more.
Pure water selection can be important if you or visitors are on an acid-based drug regimen. Although alkaline micro clustered water helps the absorption of many supplements and reduces the dosage requirement, it may affect drugs that are designed to be taken with acid or neutral water.
The .1M (or optional 0.01 micron) 3-stage filtration plus BioStone Infrared means that not only is your water filtered of impurities to the very finest possible degree, but it is also preconditioned by reduction of surface tension for maximum negative ion production during ionization. The 3-stage filter also adds coral calcium to the water automatically. Click Here to Learn More About the Replacement Water Filters. There is no substitute for a quality, replaceable filter. Imagine what your sink would be like, after a year, if you only used hot water to clean it!
Performance with NEW "mesh technology"
The Athena and Delphi feature five of the most advanced platinum-titanium electrodes in the world. When a cross section of an electrode is examined at 700 times magnification, you can see that the electrodes are now covered in a super fine mesh with very distinct points and valleys. This greatly increases the surface area without having to increase the size. We guarantee that no other models, regardless of price, will produce, under similar conditions, such a high and low pH or ORP (Oxygen reduction Potential).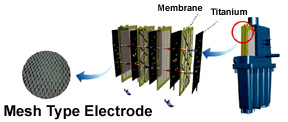 Ease of Use
The easy to read digital indicator tells you the remaining water filter life. Optimum performance is ensured by always changing your filter on time. In addition to the digital counter, a new indicator light will flicker when your current filter life is up, reminding you to change your filter.

Your new ionizer also has an attractive colored LCD display that easily identifies your selections. Easy to understand symbols and colors identify the type and level of water you have selected.

MICOM Technology
The MICOM control system optimizes the pH and ORP of your water and helps keeps your ionizer in top working condition. A new indicator light alerts you if service is needed on your ionizer.

Outstanding 5 Year Warranty
Our Athena and Delphi units come with a full Five year warranty. Offering a Five year warranty is another world first for Jupiter Science.
A stainless steel top spout may seem a small thing until you actually use and Ionizer without one. Some ionizers output their ionized water via plastic hose back to the tap and out. The kitchen tap is one of the most bacteria-laden zones in the kitchen. Furthermore, a top-mounted spout allows you to pour water anywhere; a real boon when the sink is full of dishes, or when you want to fill a large bottle.
Integrated computer circuitry means CHOICE. Some units on the market try to make out that they are ionizers but do not use computer controllers. This means that you are restricted by the pH of your incoming water and not able to adjust to the optimal pH for your own needs.
Computer circuitry also allows hot water and low pressure protection to be an automatic function.
Post-operation Auto Cleanse System means that every time you use your Venus, Melody, Athena or Delphi it will undertake a silent, automatic cleanse of the Titanium ionizing plates or MESH in the heart of its system. This auto clean ensures continued maximum performance by removing any particles that may have gotten through the filter into the ionizing chamber.
Voice confirmation means you are alerted to any change of pH. This safety feature can also be reduced in volume or turned off once you have learned how to use the Ionizer properly. it's like a 'learner-driver instructor' on board.
Filter usage Liquid Crystal display means you can see at a glance how much filter life you have left. Although not an actual measure of filter life, it's a handy indicator of longevity that you can use to assess when to order a new filter.
Optional ability to connect directly to the cold water line with certain Ionizer installations:
The Venus is a counter top only unit, but can be plumbed in directly to a cold water line, bearing in mind that PSI should not exceed 50, so install with a pressure twist type shut off so that pressure can be down regulated as necessary.
Melody and Athena units can be installed with the under sink installation kit and can also be plumbed in directly to cold water line with max 50 psi. You really don't even need your system attached to your tap. With a 1/4" hole in your counter, it can attach directly to your mains. All you need do to have PURE water is to turn it on at the convenient front flow valve.
1/4" inlet tube; better visually in your kitchen than the larger 3/8" tube on other models. Why? Smaller is less obvious, and even though you may not want to connect your unit to the mains, and hiding the inlet hose completely, the 1/4" tube looks far better than the bulky 3/8" hose on other models.
The ATHENA Water Ionizer is Jupiter Science Company's latest model.
This unit utilizes the advanced BioStone filter, which generates negative-ions as soon as contact is made with water. This advanced water technology activates water to assist in support of your metabolism, and circulation of blood. It helps to increase metabolism through better conductivity and assists with skin disorders and circulation to the extremities. It allows for far better hydration as the smaller more oxygen rich and electron rich water molecules offer up to 6 times greater hydrating power.
Additionally, the Tourmaline in the filter, (Please Click Here for details on Tourmaline )
generates FIR that enlarges capillaries, purifies water, and acts as a 'supercharger', assisting the water alkalizer to ionize and alkalize. Tourmaline powerfully affects the water immediately.

Surfactant effect (makes water wetter) increases by 10%.

Negatively ionizes water and supports extra negative ionization in the water alkalizer. (24,140/cc) / FIR (96%)



Enhances taste

Reduces cluster size

Assists alkalization

Minimizes water odor

Increases DO (Dissolved Oxygen)

The research on Tourmaline has proven it to activate animal and plant metabolism.
The Venus, Melody, Athena and Delphi water ionizers easily outperforms Japanese imports, which have been perceived as the best for many years.
The new filters incorporate the newest super ioniziation "mesh technology" in the redesigned water cell. The new units feature a computer controlled water flow valve to optimize the performance. This makes Jupiter Science capable of delivering the best range of pH and negative antioxidant ions of any system. These water ionizer machines are superior to any other water Ionizer on the market. These units will always give alkaline water-even when in the cleaning mode.
Click on the Links Below for more Details:
Click Here to see Ionized Water Crystal Pictures by Dr. Emoto
For the Amazing Benefits of Tourmaline
For answers by Email
For the Jupiter Science Microlite
Benefits of Alkaline Water
Alkaline Ionized Water Filters Technology Explained and Replacement Filters Available
Click to Download a PDF file containing valuable information on the benefits & powers of Ion Rich Alkaline Water