| | |
| --- | --- |
| Index of Links for This Page: | |
What is Low Level Laser Therapy (LLLT)?
LASER is an acronym for Light Amplification by Stimulated Emission of Radiation. Low Level Laser Therapy or Cold Laser therapy is the application of specific wavelengths of coherent laser light to injuries, skin, cells and tissues to initiate a healing response. Frequency is measured in Hertz (Hz) and can be delivered in some of the better lasers in combination with the light. A lasers' wavelength is measured in nanometers (nm) and a lasers' power is measured in Milliwatts (mW). Select laser light wavelengths supply the tissues at a cellular level with photons and electrons. Many Low Level Lasers exist under the following names: cold laser, soft laser, stimulating laser, resonating laser, healing laser, therapeutic laser, quantum laser and so fourth. All of these Low Level Lasers are extremely safe non-cutting, non-heat producing, gentle, therapeutic lasers.
What is the difference between Low Level Laser Models, Stimulating Lasers and Resonating Lasers?
Choosing a laser that will serve your needs and fit into your budget is the key. All cold lasers or healing lasers are not created equal. You can not treat everything with one wavelength and expect great results. There are many factors to consider when investing in a laser and if you would like individualized help in making a wise choice for your particular needs, you can call one of our Laser Specialists for a free consultation at toll free 1-888-824-7558. This website is a good place to educate yourself. One laser that utilizes a single wavelength can be great for numerous applications, but it will not successfully treat all dis-eases and disorders. Owning multiple lasers or a laser that combines various wavelengths in one instrument provides for a greater treatment range. The difference between Low Level Laser Models boils down to the following 10 points:

Wavelength is the length of the light wave and is measured in millimeters (mm) most often expressed in nanometers (nm), which is 1/1000 of a millimeter. In the visible spectrum wavelength and color are basically the same. Laser light in the wavelength range of 600 - 700 nanometers (nm) results in visible red light, which penetrates up to 1/2". In the wavelength range of 701 - 1000 nm, invisible infrared Laser Light results, with a penetration depth up to 3". These two specific wavelength groups of coherent laser light are the most commonly used. They quickly help to activate the bodies innate cellular communication system and positive immune, enzyme and endorphin response. The most common red light wavelengths are 630-670 nm, and for infrared 780-905 nm. The 904-905 nm wavelength is the longest wavelength and delivers the deepest penetration, especially when combined with super pulsed laser technology.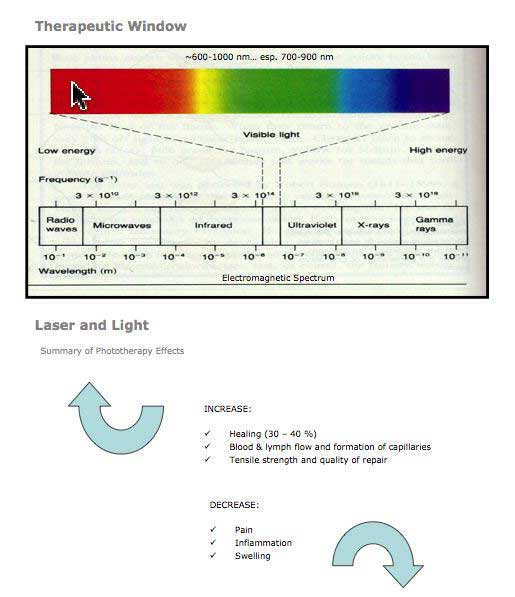 Power density is the power output of a laser or laser diode and is measured in milliwatts (mW) or 1/1000 of a watt. Maintaining a constant power density is critical in Low Level Laser Therapy and is best achieved with a microprocessor or mini-computer.

Penetration is the depth a laser beam will penetrate into the body, dependant on the type of laser being used and the frequency range it applies (See above). Deeper penetraion means greater delivery of photons to target tissue if the target tissue is deep enough or hard enough to require it.

Polarization is the body's way of protecting itself against unpredictable energy, such as electromagnetic pollution. Polarization is also known as impedance of resistance. It is triggered by Low Level Lasers utilizing a high power density or by lasers that are not controlled by a mini-computer, which ensures the power density and frequency are constant. The success of many Low Level Lasers is compromised by these two factors and it is important to purchase a laser that is driven by the exactness of a mini-computer for optimal performance.

Stimulating Lasers operate between 10 mW and 500 mW of power. There are many Low Level Lasers manufactured around the world with many different power densities and wavelengths. Most lasers manufactured today are of a single wavelength powered by either AC or DC current. While AC (alternating 110V current) is okay for stimulating lasers, it is counter productive for Resonating Lasers. Some of the best Stimulating Lasers at reasonable prices are the TerraQuant Pro series lasers, the AVANT LZ30 Cold Lasers, PowerMedic Cold Lasers and Laserex 3000 Series of Cold Lasers to name a few.

Resonating Lasers emit subtle energy capable of relaxing muscles, relieving pain, healing wounds, and with the proper combination of frequencies, delivering energy into the organs and glands. Resonating Lasers operate at approximately 5 mW of power per diode in order to prevent polarization and to enhance energy delivery. The more laser diodes a Resonating Laser has, the larger the area that can be treated at one time. A good Resonating Laser is powered by a mini-computer, which allows for precise power density output. The mini-computer can also control the precise wavelength emitted, deliver therapeutic frequencies and allow for a series of specifically selected wave forms. The best resonating laser out there is the Scalar Wave Laser, which delivers energy to the body from a cluster of 36 diodes (5mW each) in 3 different wavelengths. It is also available with optional stimulating probes in 3 different wavelengths with power outputs of 100mW each.

Frequency is the term used to explain the vibration of energy in all things. Everything we know and understand has a vibrational frequency, which is measured in Hertz (Hz). Royal Rife, Paul Nogier and Jack Swartz were all pioneers who dedicated their lives to discovering frequency medicine. Through great trial and error and with the help of powerful microscopes Mr. Rife found the frequencies that correspond to such things as: various diseases, bacteria, viruses and other disorders. Mr. Nogier discovered a detailed map of the entire body within the ear and specific frequencies to heal with. In diagnostic medicine, frequencies are well known: EKG's for the heart, EEG's for the brain, and MRI's for injured cells.

The "spread area" of a laser is the diameter of the area that can be treated at one time. This depends on the type of laser being used and the number of laser diodes the laser is utilizing for treatment. Most common Stimulating Lasers utilize 1-3 laser diodes focused upon a single point about 3mm (1/4 inch). The 3mm spot area is surrounded by a larger diameter, which is the immediate effective spread of the Laser energy. The "spread area" is approximately 1/2" (10mm in diameter). A few other lasers utilize more laser diodes to cover a larger area.

Joules is the term used to define the amount of energy delivered by one watt of power in one second. The formula for calculating joules is output x time ÷ area and is critical in determining if a laser is resonating or stimulating.
We are complex spiritual and energetic beings. Disease or dis-ease and illness are the result of imbalances in our unique energy systems, which compromises our immune, circulatory and muscular skeletal systems. Sickness is not necessarily caused by germs, bacteria and viruses, although these "bugs" are opportunists and they do interfere with our health when our inner terrain is compromised. When the immune system is inactive, overworked or suppressed and the cells are weak and unable to function at peak capacity, dis-ease and aging result.
Low Level Laser Light irradiation works to support the natural healing process of the body because it:

Donates photons and electrons to the injured tissues and weak cells of the body, which supports the production of ATP (energy) that is needed by cells to carry out their duties.

Reduces pain by causing the production of natural pain killer endorphins.

Reduces inflammation by suppressing inflammatory enzymes that create swelling, redness, pain, and heat and enhance the release of anti-inflammatory enzymes.

Enhances the process of nerve regeneration and muscle relaxation.

Enhances lymphatic drainage, which increases circulation, reduces edema and speeds healing.

Stimulate the release of helpful healing enzymes.

Releases tight muscles (both smooth and striated) that create chronic pain, joint problems, and decreased mobility.

Speeds bone repair by stimulating fibroblastic and osteoblastic proliferation.

Appears to be antiviral, antifungal, and antiherpetic when applied in the correct frequency.
Laser irradiation of tissue cultures of a mammalian cell has been shown to result in a change in membrane permeability, increased ATP levels and increased DNA production. The photons picked up by the cell membrane result in improved membrane stability and increased activity of the ATP dependent Na/K pump. Because cell metabolism is influenced by Na/K movement across the membrane, increasing the gradient will affect the flow of ions and hence the overall metabolism of the cell.
Are Low Level Lasers Proven Effective?
Low Level Laser Therapy is being used as a successful treatment option for countless, pain, inflammation, dental, burn and illness conditions all over the world. Low Level Lasers have been used for over 30 years in many countries as therapeutic energy to bring about favorable biological effects in people, plants and animals. Unlike many therapies and drugs that just treat symptoms, Low Level Laser Therapy (LLLT) has the ability to actually promote and enhance healing. LLLT is the future of medicine and is a modality that is rapidly growing in popularity throughout the world. In the last few years Laser Therapy in North America has been steadilly and exponentially increasing and the FDA has recently cleared multiple laser and LED devices for treatment of a variety of medical conditions including: carpal tunnel syndrome, cervical neck pain, low back pain, joint pain, generalized muscle pain and acceleration of wound healing. Technical light therapy is being used by Governmental agencies such as NASA for treating medical conditions in space applications. The U.S. Olympic training facilities have just released statements of endorsement for Laser Therapy for athletes. The growing acceptance of LLLT in mainstream medicine is yet another indication of the medical efficacy of this highly effective treatment modality, which is proving to be not only a viable, but often a superior treatment option.
Over 75 Trillion cells in a human body all need electrons to communicate with each other. Laser light delivers these required electrons directly to the cells and enhances both their ability to communicate with each other and their ability to produce ATP (energy), which they require for optimal functioning. Additionally LLLT causes the release of healing enzymes and the production of endorphins, which are natural pain killers.
Are Low Level Lasers Safe?
The answer is a resounding YES. When Low Level Lasers are used correctly, they are very safe. The most important safety regulation is to avoid pointing a laser at the eye. Stimulating lasers have a particularly powerful beam and can cause harm to the retina. Do not point them directly at a fetus during pregnancy, or directly over a cancer. Cold lasers have been used successfuly for over 30 years with no reported incidences of anyone being injured. Low Level Laser Therapy has been proven completely safe in over 3000 worldwide studies. To date there are no known reports of anyone being harmed from a low level laser.
How do you use Low Level Lasers?
Low Level Lasers are used by applying the laser light at a right angle, directly over the area or condition of concern, and leaving it there until the recommended time has elapsed or number of Joules is absorbed. Later in this document you will learn about utilizing lasers for the treatment of acupuncture points and the number of Joules required per point. Both Resonating Lasers and Stimulating Lasers can be used for acu-point, trigger-point and myofascial-point treatment. While the Scalar Wave Laser is a Resonating Laser, if it is used for longer periods of time on a single point it will also provide the same stimulating results as a Stimulating Laser, however a Stimulating Laser cannot achieve the same effects of a Resonating Laser.
Low Level Laser Therapy Treatment Guidelines:
The Laser treatment may be given with a Resonating Laser or a probe style laser. While a Resonating Laser may take longer to treat a point, it will also treat a much larger area. Stimulating probe style lasers typically provide spot treatment of approximately 3mm (1/4 inch). The 3mm spot area is surrounded by a larger area, which is the immediate effective spread of the Laser energy. The "spread area" in this instance would be approximately 10mm (3/4") in diameter. The laser should be applied at right angles to the skin, and in contact with the skin in order to avoid loss of light energy due to reflection or deflection. The laser can be applied over light clothing or wound dressings, however it does not perform well with black or thick clothing.
Laser Point Treatment:
The following protocols are for Resonating or "point treatment" as apposed to scanning. "Point treatment" means to treat any given point on the surface tissue, with the selected dosage. Optionally, some therapists may choose to use the technique of scanning, which involves moving the laser with the tip as close to the tissue as possible, backwards and forwards over the selected area of treatment. With "scanning" the movement should be very slow and steady. Imaginary lines should be traced with spacing of 5-10mm between the lines and sometimes crisscross lines are also applied. This results in a general "bathing" technique, which can be used to treat larger target areas. However, with this technique it is important to make sure that adequate time is spent in doing this to ensure that enough Joules are absorbed by the tissue.
Frequency of Treatment Sessions:
In general, treat every 2-3 days for 4-5 treatments. Follow this with one treatment per week until the issue is resolved. Some conditions, including long term chronic conditions may need "tune up" treatment every 4-6 weeks, or as required.
Treatment Parameters:

Never look directly at the Laser aperture or the light. Protect your eyes. Infrared laser light is invisible, so use extra caution with it.

A maximum of 50 Joules per adult for total treatment dosage and 25 Joules for a child is recommended per session.

Overuse of a laser is generally just a waste of time and will cause diminishing returns, reducing the benefits, but you will not make a cell worse than when you started.

If pain gets worse due to treatment, which rarely occurs, do not be alarmed. The laser has increased the circulation and caused the release of toxins, which sometimes causes some early discomfort. It is an indication of tissue reactivity and precedes improvement.

Low Level Laser Therapy (LLLT) is generally considered complimentary and can be used with adjunctive treatments. In general it is a good idea when combining LLLT with other modalities to do cooling techniques prior to LLLT and warming techniques after LLLT.

Patients with acute conditions will frequently see beneficial effects almost immediately. Patients with chronic conditions may find that a slightly longer treatment regime is required before effects are obvious.
Disclaimer:
The information provided within this report is for informational purposes only. Neither the manufacturer of the devices discussed, nor the author make any human claims to diagnose, treat or cure any disease or disorder. The information and protocols are used to demonstrate how owners of Low Level Lasers can help themselves by delivering photons to the body and thus encouraging the body to heal itself. Anyone who uses this information assumes full responsibility and liability for their own actions.
By acknowledging this disclaimer, the reader accepts full responsibility for any and all consequences of his or her use of Low Level Laser Therapy and the products described. The Low Level Laser products described have been registered with the FDA, but some of them may not, as of yet, been studied by the FDA for efficacy. Low Level Laser Therapy is neither a cure nor an alternative to proper medical care. You should always seek the care of a competent medical care provider.